Užitečné odkazy
Hlavní nabídka
100 Best Things to do in Germany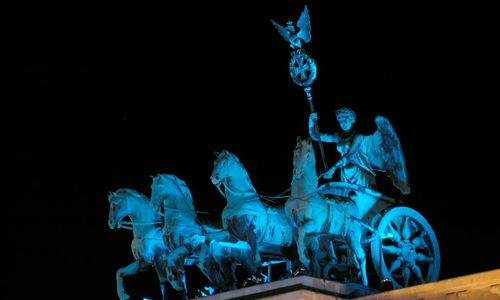 Berlín, Braniborská brána.
PART 2 Here are the 100 best things to do in Germany that will show you the charm, beauty and cultural diversity of this country.
Jak na to
Highlights jsou převzaté z blogu Jen Reviews.

Read Part One: 100 Best Things to do in Germany 
68. The Green Citadel (Magdeburg)
The Green Citadel was the name conferred by eccentric architect Friedensreich Hundertwasser upon one of his last masterpieces, which was completed in 2005, five years after his death. With its pink walls, exotic towers and minarets and typical Hundertwasser contempt for straight lines, the building is a colorful and provocative point of interest among the Baroque facades and drab post-communist buildings to be found in Magdeburg.
The Green Citadel on Breite Straße is only 8 minutes on foot or by bus from Magdeburg`s railway station. Magdeburg is around 2 hours from Berlin by train. The closest airport is Leipzig/Halle.
69. Kurfürstendamm (Berlin)
Berlin's Kurfürstendamm – or "Ku'damm", as it is affectionately known – is an internationally famous boulevard, 3.5 kilometres long, on which elegant shops and tasteful cafes and restaurants nestle cheek by jowl with older, more historical buildings. Many fashion designers have shops on the Ku'damm, as do a number of car manufacturers; it is THE place to shop in Berlin.
The Kurfürstendamm runs through Berlin's Charlottenburg-Wilmersdorf borough and is 15 minutes by subway from the main railway station.
70. Bamberg
The beautiful city of Bamberg is built – like Rome – on seven hills, each with its own church. Much of the city has been under UNESCO World Heritage Protection since 1993. Of particular interest is the old Town Hall, with its rococo architecture and its position in the middle of the Regnitz river! Bamberg`s cathedral – which dates from the 11th century – and St. Michael's Monastery are two further attractions in this lovely city.
Bamberg lies in Upper Franconia, Bavaria, with the closest airports Frankfurt, Munich or Nuremberg. It can be reached from Nuremberg by train in less than an hour.
71. Mainau Island
The Island of Mainau, 45 hectares, lies off the shores of Lake Constance in southwest Germany. The Flower Island, as it is known by locals, gets its name from the million roses, tulips, dahlias and flowering perennials which bloom in its parks and gardens, as well as its 150 year old Arboretum with its huge sequoias and towering palms. Palms and citrus plants round off the gardens, giving the island a mediterranean atmosphere in the summer.
Mainau also boasts a castle and a church and many attractions for children. With its idyllic setting in the lake, it is a wonderfully relaxing holiday venue for the whole family. Mainau can be reached by ferry from Meersburg. The nearest airport is Friedrichshafen, while the nearest railway station, Uhldingen-Mühlhofen, is only 6 kilometres away.
72. Museum of Art (Düsseldorf)
Düsseldorf's Museum of Art, which is located in the center of Düsseldorf on the Rhine river, first opened its doors to the public in 2001 and has seen a steady stream of art lovers ever since. It is famed all over the world for its collections of modern painters such as Dali or Miró and its artefacts ranging from mediaeval times to the present day. Its famous Hentrich Glass Collections boasts examples of glasswork from contemporary glass artists right back to glass objects from the Romans.
The Museum of Art is located around 30 minutes by bus from the railway station, or 3.5 kilometres from the city center.
73. Stolzenfels Castle (Koblenz)
Stolzenfels Castle in Koblenz, Rhineland-Palatinate on the left bank of the Rhine was originally built as a mediaeval fortress in 1259. The castle underwent much expansion and modification – as well as being completely destroyed by the French during the Nine Year's War – before becoming the Gothic masterpiece that it is today. Poised poetically on the green banks of the river, this romantic castle with its towers and turrets and its opulent grounds is an enchanting sight.
Castle and grounds are open to the public but closed on Mondays. The castle is 5 kilometres south of Koblenz and is accessed by a short walk up the hill (around ten minutes).
74. Zollverein Coal Mine Industrial Complex (Essen)
An active coal mine between the years of 1851 to 1986, the Zollverein Coal Mine in Essen, North Rhine Westphalia has since become a fascinating architectural and industrial monument and was declared a UNESCO World heritage Site in 2001. Today the buildings of the coalmine and the museums they house are the number 1 attraction in Essen, offering as they do unique insight into the rise and fall of this most important industry.
The mines are 30 minutes from Essen railway station by bus, or 15 minutes by car. The nearest stop is "Essen Zollverein". Sturdy shoes are recommended.
75. Esslingen
The pretty town of Esslingen on the river Neckar in Baden-Württemberg is only 14 kilometres from Stuttgart and well deserves a visit. With its half-timbered houses and cobbled streets, its castle and houses in and on the river (more than 800 of which are protected) and its romantic stone bridges, Esslingen is a little-known jewel in southwest Germany just waiting to be discovered.
The train from Stuttgart takes only ten minutes. Nearest airport is also Stuttgart, with a bus going directly from the airport to Esslingen around twenty minutes.
76. Städel Museum (Frankfurt)
The Städel Museum in Frankfurt am Main was founded in 1851 and has since expanded to become one of the most highly-acclaimed art museums in Germany, with art collections spanning seven centuries. On a 4,000 square metre display area, it houses over 2,700 paintings, 100,000 drawings and prints and more than 600 sculptures. It was designated Museum of the Year in 2012 by the German Art Critics Association and is a favored attraction in Frankfurt for art lovers from all over the world.
The Museum is barely 3 kilometres from the railway station (five minutes by car or 15 minutes on foot).
77. Monsterkabinett (Berlin)
In the eerie cellars of Haus Schwarzenberg in Berlin, the artist Hannes Heiner has created an underground world peopled by bizarre creatures, half monster and half robot, which he has created out of recycled waste materials. These creatures have feelings; they sing, dance and tell their stories. For anyone who loves the grotesque and doesn`t mind the odd shock, Berlin`s monster cabinet is full of fascination and surprise.
The Monsterkabinett is only open Thursdays through Saturdays in the afternoon. Admission for children under six is not recommended. The Monsterkabinett is 10 minutes by car and around half an hour on foot from the main railway station. Nearest subway station is Hackescher Markt.
78. Krämerbrücke (Erfurt)
The Krämerbrücke, or merchants bridge, is a bridge dating from mediaeval times lined with 60 quaint, half-timbered houses. It spans the Breitstrom fork of the river Gera and is 79 metres long, thus unique in Europe and the longest inhabited bridge worldwide. It is also wonderfully picturesque, particularly at night when the lights reflect in the water.
Erfurt lies approximately 100 kilometres southwest of Leipzig. It is the largest town in Thuringia and has its own airport. The Krämerbrücke is only 1 kilometre from the railway station and can be reached by car or on foot within 13 minutes.
79. Bergpark Wilhelmshöhe (Kassel)
The landscape park of Wilhelmshöhe in Kassel was proclaimed a World Cultural Heritage Site in 2013 and is the only one of its kind in the world. 2.4 square kilometres in area, it rises up the Karlsberg mountain to a height of 526.2 metres. The summit is dominated by the prodigious Hercules Monument, one of Kassel`s most famous landmarks.
The Park is most famous for its downward-running water cascades and fountains and its panorama view of the city of Kassel with its elegant castle of Wilhelmshöhe. It is only 7 kilometres from the railway station and can be reached by car or bus in around 15 minutes. Closest airports are Hanover or Frankfurt.
80. Opel Zoo (Kronberg in Taunus)
The Opel Zoo lies in a thickly-wooded area between Königstein and Kronberg in Taunus, Hessen. Founded in 1955, it has rapidly grown to become the second largest zoo in Hessen and the only one to house the african elephant. The Zoo was furthermore successful in rescuing the mesopotamian fallow deer from extinction and is part of further plans to salvage more endangered species.
More than 1,4000 animals can be viewed here in a natural setting close to their preferred habitat. There are a number of events and children are allowed to feed many of the animals, making a trip to the Opel Zoo a great family outing. The Zoo is best accessed by taking a bus from Kronbach railway station to Königstein, exiting at Opel-Zoo.
81. Therme Erding (Munich)
At 145,000 square metres, Therme Erding is the second largest complex of baths in Europe. They consist of four distinct sections: the Galaxy waterslide section, the Thermen Paradies with spas, hot springs, Jacuzzi and water massage, the Sauna Paradies with 25 different saunas and the Vital Oase (both only available to those aged 16 or over). For a day of water fun, relaxation and wellness, the Therme Erding is hard to beat.
Therme Erding is located 30 minutes by car or just over an hour by train from Munich railway station. The nearest airport is Munich.
82. Berchtesgaden Eagle`s Nest, Salt Mine and National Park
Berchtesgaden, with its stunning location in the Bavarian Alps near the Austrian border, is a beautiful if little-known resort for a holiday. Its famous Eagle's Nest (or Kehlsteinhaus in German) is located right on the peak of the Kehlstein mountain, at a height of 1.835 metres, offering a breathtaking view of the three parallel valleys which encompass the Berchtesgaden National Park. The first salt mines here were opened in 1517 and are the oldest salt mines still active in Germany. A visit to the salt mines of Berchtesgaden is an unforgettable experience.
Berchtesgaden is 30 minutes by bus from Salzburg, or 2 hours 45 minutes from Munich by train.
CZECH:  Hagengebirge - Steinerne Agnes
83. Lake Königssee and St. Bartholomew's Church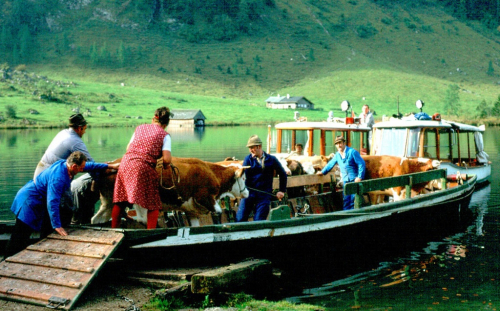 Lake Königssee, reputedly the cleanest lake in Germany, is a mountain lake around 7.7 kilometres long and 1.7 kilometres wide situated in Bavaria, close to the Austrian border. It is the third deepest lake in Germany. Famed for its echo, its majestic waterfalls and the distinctive pilgrims`church of St. Bartholomew, Lake Königssee is a popular resort for visitors and locals alike.
Lake Königssee is easily accessible from Berchtesgaden railway station by bus and a ten minute walk. The nearest airport is Salzburg.
CZECH: Shánění krav z Watzmannu - Trekking Watzmanntour - Klettersteig Watzmanngrat - Climbing Berchtesgadener Weg - Skitour Watzmann - Climbing guide Watzmann Ostwand
84. Old Town of Rothenburg ob der Tauber 
The mediaeval charm of Rothenburg ob der Tauber in Middle Franconia is legendary. The little town became so impoverished during the 17th century that it stopped growing, and it sustained little damage during WWII, so its mediaeval state is astonishingly well-preserved. Take a voyage back in time when you walk its cobbled streets or around its old town wall. Visit the Mediaeval Crime Museum and the Castle Gardens and glory in the view from the Town Hall's 50 metre high tower.
Rothenburg ob der Tauber can be easily reached by train from Munich (2.5 hours), Nuremberg (1.15 hours) or Frankfurt (3 hours). The nearest airport is Stuttgart.
85. Nuremberg Castle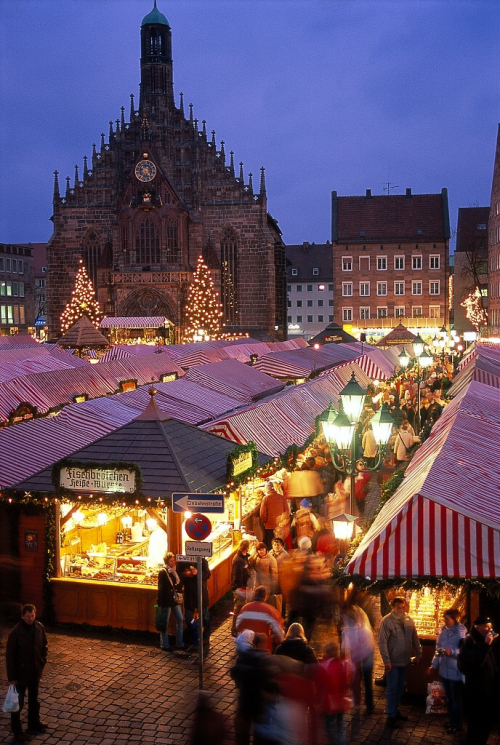 The oldest parts of Nuremberg`s Imperial Castle date from the beginning of the 13th century; however, in the Middle Ages, it was also a significant fortress for the Roman Empire. Particularly attractive for tourists are the Deep Well (which is probably as old as the castle itself), the Palace with its Imperial Chapel and the Kaiserburg Museum. Visitors may tour the castle for themselves, but the Deep Well can only be viewed as part of a guided tour.
Nuremberg Castle is 6 minutes by car or 15 minutes by bus from the city's railway station.
86. Serengeti Park (Hodenhagen) 
The Serengeti Park in Hodenhagen, Lower Saxony, is loosely divided into 4 areas: Animal World, Water World, Monkey World and Leisure World. Animal World is divided into 13 different zones for different continents and climates – the animals roam freely and entry is by car or the Serengeti bus. Waterworld centers on water creatures and can be visited on foot, Monkey World houses 20 different species of monkey and is approached in an open-top bus and Leisure World consists of 40 different rides and activities for adults and children.
A great venue for an exciting family outing, the Serengeti Park is only an hour's drive from Hanover, Hamburg or Bremen. The Park lies around 3 kilometres from Hodenhagen railway station.
87. Millennium Tower (Magdeburg)
At 60 metres in height, Magdeburg's Millennium Tower is among the tallest wooden towers in the world. It is also a fascinating museum, leading its visitor chronologically through 6,000 years of human history, with the earlier exhibits on the ground floor and later artefacts on subsequent floors. Its upper floor consists solely of an observation platform, as if it were looking towards the future.
The Millennium Tower is located in Magdeburg's Elbauenpark, 5 km from the railway station, nearest stop Tessenowstr.
88. Wismar 
The attractive port town of Wismar on the Baltic sea in Mecklenburg Upper Pomerania, a member of the former Hanseatic League, was declared an UNESCO World Heritage Site in 2002. Wismar combines charming and romantic architecture with the tang of its maritime past in a way which is unique. Particularly worthy of a visit are the Nikolaikirche and the Old Hansa Harbor. Wismar has great fish restaurants, too!
Wismar has its own railway station, which is best accessed by train from Rostock or Schwerin, Berlin or Hamburg. The nearest airport is Lübeck.
89. Grugapark (Essen) 
This botanical park in Essen, North Rhine Westphalia was established in 1927 for the Great Ruhr Landscape Gardening Exhibition, which in German is shortened to Gruga. The heart of "Essen's most beautiful garden is the botanical garden with its giant cacti and bonsais, its roses and its Rhododendron Valley. Sculptures and statues abound to delight art lovers, spas and wellness are also represented and there are playgrounds for children – including areas with friendly animals for children to feed and pet – making the Grugapark a great destination for the whole family.
The Gruga Park is 10 minutes by car or 40 minutes by bus from the railway station. Exit at Grugapark Essen.
90. Waldspirale (Darmstadt)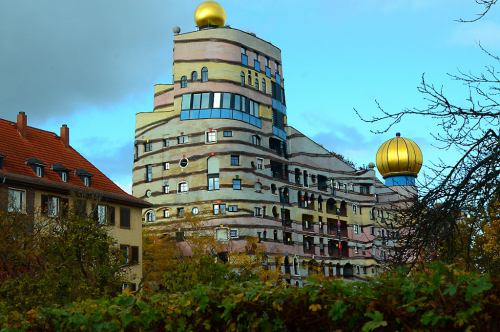 Darmstadt`s Waldspirale (forest spiral) is a residential complex designed in the 1990s by the eccentric architectural genius Friedensreich Hundertwasser. In former times the complex boasted a cafe for visitors on its upper floors; currently there are no amenities for visitors. Nonetheless, with its over 1000 windows (no two the same) and its typical pink and yellow facade and minarets – not to mention the trees growing out of its roof – it is well worth a visit.
Darmstadt is located in the Rhine Main area; the nearest train connections are Frankfurt and Heidelberg. The Waldspirale lies on the crossing Friedberger Straße/Büdinger Straße, 11 minutes by car or half an hour on foot from the railway station.
CZECH: Waldspirale Darmstadt
91. Reptilium (Landau)
In 2004, Germany's largest Reptilium (zoo for reptiles) opened in the town of Landau in Rhineland Palatinate. Over 1000 reptiles and amphibians have their home here, as do scorpions and giant spiders; the "Baby Station" offers insight into hatching and raising their offspring and public feedings and other shows are available. Particularly popular are the spitting cobras!
Landau can be reached in just over half an hour from Karlsruhe by car, or an hour by train. The nearest airport is Mannheim.
92. Martin Luther's House (Wittenberg)
Now the largest museum of the Reformation in the world, the Martin Luther house was originally a monastery and then part of the University. Luther and his wife occupied it around 1515; since Luther's death in 1546 it has been used as a military hospital, a boarding school and a Protestant seminary, becoming a UNESCO World Heritage building in 1994.
Wittenberg is just over an hours`drive from Hamburg. There is no direct train connection, but trains run from Hamburg with two changes. The Martin Luther house is located on Collegienstraße, 15 minutes from the railway station.
93. Deutsches Museum (Munich) 
With around 28.000 exhibits covering a total area of over 50,000 metres and an average of 1.5 million visitors annually, Munich's "Deutsches Museum" is the biggest museum of science and technology worldwide. The laws of physics as well as scientific methods and instruments are presented in a way which is both entertaining and instructive for adults and children equally.
Visitors are advised to come by public transport, as parking spaces are very limited. Exit at tram stop "Isartor" or bus stop "Boschbrücke" (around 13 minutes).
94. Ducal Vault and Historical Graveyard (Weimar) 
Weimar's Ducal Vault and Graveyard is the last resting place, not only of the members of the duchy of Saxe-Weimar-Eisenach, but also of those two literary Weimar giants, Goethe and Schiller. It is also one of the finest examples of classical architecture in Thuringia. The Ducal Vault contained 43 caskets until 1994, when ten had to be removed for conservational purposes. The oldest contains the mortal remains of Duke Wilhelm IV (1598-1662).
Further places of interest in Weimar include Liszt's house and the Kirms-Krackow house, the Goethe museum and the Buchenwald memorial. The nearest large towns are Erfurt and Jena. Weimar is accessible by rail or air from Berlin in around 2 hours.
95. Rakotzbrücke (Kromlau)
The exquisite Rakotz bridge is located in the Azalea and Rhododendron Park, Kromlau in Gablenz, Saxony. It was built to create the illusion of a perfect circle when reflected in the water. The park itself, conceived in the English style in the 19th century, is a beautiful place to visit, especially in the spring when the azaleas and rhododendrons are flowering. Entry to the park is free and it is always open.
The park is most easily accessed by rail via Cottbus from Berlin. The nearest railway station is Weißwasser, from which buses run regularly to Kromlau (around 15 minutes).
96. Summer Toboggan Park and Fairy Forest (Ibbenbüren)
Located in the beautiful Teutoburg Forest between Lower Saxony and North Rhine Westphalia, the Ibbenbüren Summer Toboggan Park and Fairy Forest delight all who visit them, combining the fun and excitement of tobogganing with the magic of fairies and elves hiding between the trees and dwarves working and singing in walk-through caves. Dodgems, bowling and a large adventure park for children round off this marvellous family venue.
Osnabrück (25.7 km to the West) and Münster (43 km to the South) are the nearest large cities. Münster/Osnabrück is the closest airport (25 minutes by road).
97. Bernkastel-Kues 
Bernkastel-Kues, located directly on the Middle Moselle in the Rhineland Palatinate (approximately 50 km from Trier) is a recognized health resort, a famed wine growing region and one of the most charming old towns imaginable. Whether you choose to visit the wine museum and wine-sampling centers or the birthplace of the 15th century scholar and humanist Nicholas de Cusa and the "Graacher Tor" (1300), Bernkastel-Kues has something for every taste, including great restaurants!
Bernkastel-Kues is approximately 50 km northeast of Trier and 150 km west of Frankfurt. It has no railway station and is best approached by bus from Wittlich station (24 minutes).
98. Hamburg Fish Market
From 5am to 9.30 am from March to October, and from 7am to 9.30 am during the winter months, the Hamburg fish market attracts 70.000 visitors a week to the banks of the Elbe: those who get up early especially to visit it, and those who are still up after a night of partying alike! Not only fish, but fruit and vegetables, clothing, souvenirs and many other goods can be bought there after the traditional haggling. Street vendors still cry their wares so raucously that they can be heard at the nearby Reeperbahn. You cannot leave Hamburg without visiting the Fish Market!
Bus stop is Landungsbrücke (10 minutes) or Reeperbahn (12 minutes) from the railway station.
99. Hofbräuhaus (Munich)
Munich's "Hofbräuhaus" or "Beer Temple", formerly a brewery, is the perfect place to drown your disappointment if you happen to miss the Oktoberfest! With an estimated 30,000 guests a day, it is probably the largest beer hall in the world. Waiters in Lederhosen and waitresses in dirndls still serve foaming glasses of beer in the famous Mass (1 litre tankard) and culinary specialties from Bavaria fill the air with delicious smells.
The Hofbräuhaus is located in the old quarter of Munich at Am Platzl , 9 minutes from the main railway station by tram (nearest tram stop "Marienplatz"), or 13 minutes on foot.
100. Historical Market Place (Hildesheim) 
Hildesheim is one of Germany's oldest cities, having been the seat of the bishopric since 815 AD. Once considered one of the loveliest market places in the world, it was razed to the ground by bombs during an air raid in March 1945. However, in the years between 1984 and 1990, little by the little, it was restored to its former state with a great deal of love, attention to detail and professional expertise. Today it attracts coach loads of visitors from all over the world to marvel at this miracle of restoration.
Hildesheim is approximately 37 km south of Hanover and easily accessible by rail or road in about 40 minutes.
Diskuse
Diskuze k článku
Celkem 0 příspěvků v diskuzi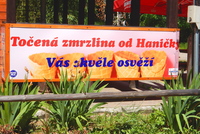 Novinky ze západočeské metropole a okolí....
celý článek

Turistický informační portál
WhereToStay.Tips
kde naleznete fantastické rady kde se ubytovat, kde jíst a co vidět, v lokalitách celého světa.
Může se hodit
Diskuse
| | |
| --- | --- |
| copy paste | Horydoly , 21.5.2018 13:14, 2 příspěvky |