Užitečné odkazy
Hlavní nabídka
Nendaz Freeride 2022: the full climax of the grand final this Saturday on Mont-Gond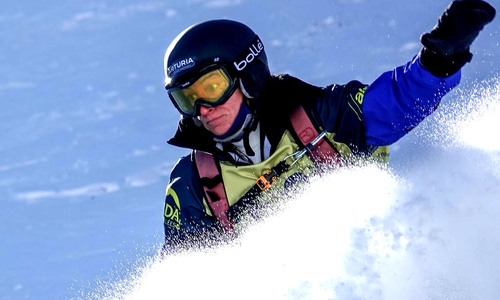 Estelle Rizzolio freeride Nendaz.
Around fifty prominent freeriders, including riders from the Freeride World Tour (FWT), are due to attend the legendary 4* Freeride World Qualifier (FWQ) in Nendaz on Saturday the 5th of March 2022, which is already promising to be a very competitive event. Riders are competing on the legendary Mont-Gond, which this year boasts perfect snow conditions.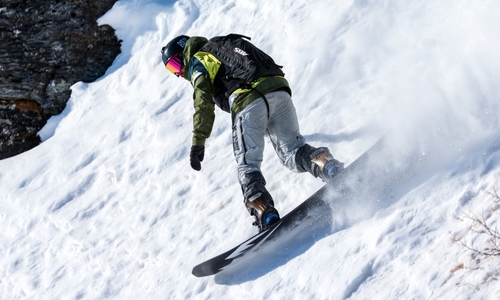 Florian Bouvet-Fournier na snowboardu.
The public can watch the show live from the top of the Plan du Fou gondola or from home online from 8:30 h.
The Favourites
In the men's ski category, the Swiss have medal opportunities with Paul Dentan, current leader of the FWQ ranking, and Simon Perraudin, fourth. But they have to face several riders from the Freeride World Tour who have to come to Nendaz to requalify for the FWT 2023. These include Blake Marshall from New Zealand, Valentin Rainer from Austria and Maël Ollivier from France.
In the snowboarding category, the big favourite is the two-time French world champion Victor De Le Rue who is currently in sixth place on the Freeride World Tour and must therefore come via Nendaz to re-qualify for the elite league next winter. His direct rivals are Liam Rivera (Mex) and Enzo Nilo (FR), who is currently second in the Freeride World Qualifier. But the young grass roots rider of the Nendaz Freeride Team Eliot Dänzer could be the one to upset the competition after his victory in the spectacular Backcountry Invitational a few weeks ago.
In the women's ski category, the Swiss Eva Battolla and Martina Müller (currently 2nd and 5th in the qualifying round) have a good chance of a medal. They must confront the two Freeride World Tour champions Zuzanna Witych (POL) and Juliette Willmann (FR).
In the women's snowboarding category, the battle is expected to be close between Estelle Rizzolio (FR), Celina Weber (GER) and Mikaela Hollsten (FIN).
The Biggest Freeride Event in the World
For its 2022 edition, Nendaz Freeride has scheduled eight competitions for freeriders of all levels and ages. With a total of 500 participants and a staff of more than 150, it is the biggest freeride event in the world. In 2022, Nendaz Freeride is installing, for the first time, a 4000 m2 festive village, a venue where freeriders and the public can meet, from the 25th of February to the 5th of March in the heart of the resort. On the programme: musical entertainment with a DJ and live band, trampolines for children, a big airbag (free), a film festival, an evolving snowpark and a 90-metre cable park (free), a bar and food trucks.
LIVE: Nendaz Freeride

READ ALSO: Nendaz-Veysonnaz put beginners on skis
Zobrazit místo Skiareály - Skiarea - Lyžařská střediska na větší mapě
Diskuse
Diskuze k článku
Celkem 0 příspěvků v diskuzi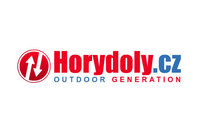 Diskuse
| | |
| --- | --- |
| RE | Kuba Turek, 12.8.2022 1:07, 17 příspěvků |
| | |
| --- | --- |
| RE | Honza, 11.8.2022 20:14, 17 příspěvků |
| | |
| --- | --- |
| RE | Kuba Turek, 11.8.2022 16:55, 17 příspěvků |
| | |
| --- | --- |
| RE | Honza, 11.8.2022 14:54, 17 příspěvků |
| | |
| --- | --- |
| RE | Kuba Turek, 11.8.2022 11:31, 17 příspěvků |
| | |
| --- | --- |
| RE | Honza, 11.8.2022 11:01, 17 příspěvků |
| | |
| --- | --- |
| RE | Kuba Turek, 10.8.2022 22:13, 17 příspěvků |
| | |
| --- | --- |
| RE | hONZA, 10.8.2022 9:41, 17 příspěvků |