Užitečné odkazy
Hlavní nabídka
Best Spring Season Treks in Nepal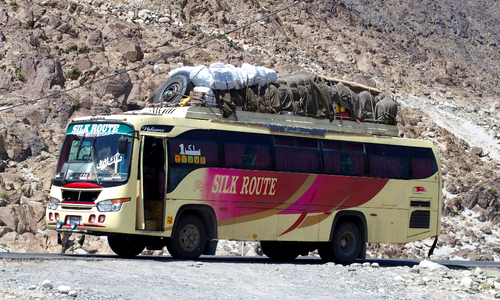 In Nepal, the two seasons of spring and fall are often ideal for trekking. The fall (September to November) and spring months are regarded as the optimum times for hiking (March to May). The period from mid-September to mid-December is also regarded as the ideal time for hiking in Nepal's Himalayas. 
These seasons are supplemented by a nice climate, with moderate temperatures and unobstructed views of the mountains.
In actuality, adventure trekkers from all over the world like taking trekking trips in Nepal. Although trekking is a year-round sport in Nepal, there are particular months that offer the ideal trekking conditions. One of the best times of year to see Nepal's mountains is unquestionably spring.
With the breathtaking views of the high-altitude wildflowers, particularly rhododendrons. Hiking in the deep evergreen forest covered with blooming rhododendrons is like hiking heaven and will add excitement and beauty to your Spring Season adventure. The rhododendron season is another name for spring trekking in Nepal. Walking up and down while taking in the breathtaking vistas of the melting snow. You might come across a path while out walking that is carpeted in luxury; this path was intended for royalty such as Kings and their families, therefore passing through it while awake will be an extraordinary experience.
About half of the over 1000 varieties of rhododendrons that exist in Nepal can be easily explored while on a trip. In the spring, the hiking trail showcases the vibrant (red, yellow, pink, and white) rhododendron blossoms. All of Nepal's best trekking destinations allow for spring hikes. Out of the 14 tallest peaks in the world, Nepal is home to the top 8 highest peaks above 8000 meters. There are also many other sky-reaching mountains in Nepal that make excellent trekking destinations. Many hiking areas in Nepal bring you close to numerous tall mountains. The following are specifics about the finest trekking regions in Nepal that are ideal for spring treks:
Trek to Everest Base Camp
Where you stay is beneath Mount Everest, the tallest mountain in the world, which is over 8,848 meters (29,028 feet) tall. Mount Lhotse, which is located nearby and ranks fourth among the world's 14 most significant mountains, is also close by.
After a brief, beautiful flight from Kathmandu in a small aircraft, you will arrive at Lukla, a Sherpa town. From there, it is an incredibly energizing walk to Everest Base Camp. The experience begins with waking up in the decent and beautiful Sherpa towns of Phakding and Monjo.
As you continue your walk, you'll enter Sagarmatha National Park, which has been listed as a World Heritage Site since 1979. This park spreads out over an incredibly beautiful area with an intriguingly diverse range of vegetation, while also preserving the natural beauty of the high Khumbu Valley and its towering mountains, including Mt. Everest, Lhotse, Cho-Oyu, Amadablam, and clusters of tall peaks inside the recreation area.
After leaving the Dudh Kosi River valley and canyon, a climb leads to Namche Bazaar, the main town/town of the high Khumbu Sherpa people, the highlanders of Everest, and is surrounded by beautiful tall rhododendron, magnolia, oak, pine, fir, and juniper tree lines.
From Namche Bazaar, take a day of rest to aid in acclimatization before moving on to the excellent Tengboche, which is encircled by mountains and lush forests. Take some time to visit its magnificent cloister.
Enjoy the exuberance of base camp with views of Khumbu Ice-Fall and icy masses as well as the progression of mountain climbers moving to Everest by getting a scene of mountains with perspectives on Everest and Amadablam, where course deserts green tree lines for dry and dry mountain atmosphere are achieved.
After about a minute, a vigorous ascent propels you up Kalapathar's rocky slope for stunning views of the surrounding mountain crests, with Pumori and Everest the closest apart.
Having fun in the high Khumbu valley and at Everest base camp, where the return trek leads downhill to Lukla for the trip back to Kathmandu with wonderful memories of the Everest Base Camp Trek.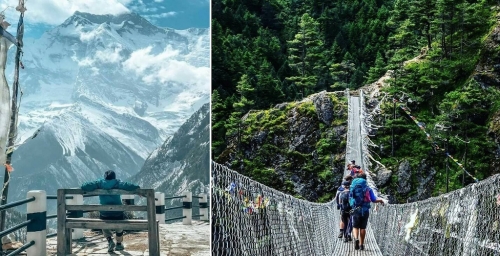 Trek the Annapurna Circuit
The best trekking route in the Annapurna ranges is the Annapurna Circuit Trek, which begins in the east of the ranges and travels counterclockwise through the world's deepest gorge (Kali Gandaki Gorge), an amazing viewpoint (known as the sunrise view over the snow-capped mountains from the Poon Hills), the stunning Muktinath temples, the amazing pilgrimage sites of the trek, and warm refreshing in the natural hot springs.
You will gain all the experience from walking through tropical forests, rural farmland, and glacial zones while ascending from 800 meters to 5416 meters in altitude. You will also get to enjoy panoramic views of the surrounding snow-capped mountains, such as Mt. Dhaulagiri, Mt. Manaslu, Mt. Annapurna I, Mt. II, Mt. III, Mt. IV, Mt. Annapurna South, Mt. Machhapuchhre.
Trek to Annapurna Base Camp
Annapurna Base Camp Trek is the best trekking journey that leads to the destination through the lush green scenery with backdrop views of the white mountains with amazing views and a delightful blend of culture. It circumnavigates remote traditional villages. A 14-day trek is also a great option for first-time hikers.
Bring you to the country's remote region where there are ethnic villages. You'll get to learn about the customs and culture of the locals. You won't feel far from home while strolling along the lovely trail lined with vibrant flowers and vegetation. You will be near Mount Annapurna if you walk every step.
As a result, the Annapurna Base Camp Trek is regarded as the most stunning and colorful hike in Nepal's Himalayas. The 14-day journey begins in Pokhara (in the foothills of the Annapurna), passing through the quaint Magar and Gurung villages. On the challenging trails, the journey is filled with exhilarating ups and downs.
Trekking in the spring, with views of snow-capped mountains like Mt. Annapurna I, Mt. Annapurna South, Tent Peak, Fishtail, Mt. Machhapucchre, Mt. Manaslu, and others in clear view. Additionally, you'll be able to enjoy fresh foods, view the sky kiss the mountains, and take in the waterfalls and streams. Trekking to Annapurna Base Camp offers the ideal combination of a sunny day and breathtaking views.
Trek the Manaslu Circuit
Manaslu Circuit Trekking is the perfect trek because it combines a rich cultural heritage, unmatched Himalayan views, a pristine Himalayan ecosystem, and an enjoyable walking experience. It follows the Tiber's ancient salt trade route along the Budi Gandaki river. The best trekking alternative to the Annapurna Circuit Trek has been the Manaslu Circuit Trek since 1992. The drive to Arughat serves as the starting point for the trek, which then proceeds uphill alongside the raging Budi Gandaki River. The Manaslu Circuit Trek mostly involves walking through rocky gorges cut between Himachuli Peak, 7890m.
The Manaslu circuit trek features vibrant rhododendron blossoms, local flora, and fauna during the month of Spring. with breathtaking mountain views and crystal clear skies. You can see Shringi, Langpo, Saula, Ngadi Chuli, Mount Manaslu, Mount Himalchuli, and the Ganesh Himal mountain range. Possibility to observe and interact with the Manaslu Conservation Area's wildlife.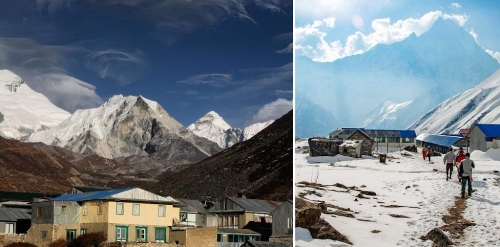 Trekking in the Langtang Valley
Trekking in the Langtang Valley ranks among the top 5 spring treks in Nepal. Because it is the closest mountain to the capital Kathmandu, it is a popular experience goal. On a clear, crisp morning in the spring, Kathmandu residents can see views of Langtang Himal to the north of the city and all the way around the valley.
Being the closest mountain destination, the Langtang valley allows trekkers to stretch out with the blessed Gosainkunda lake and stroll on high edges in the shade of Langtang Himal on their way back to Kathmandu.
Trekking in the Langtang Valley in the spring:
Trekking through the Langtang Valley in the spring will be vibrant when wildflowers are in full bloom, especially rhododendrons (Nepal's national flower) of various species and other wild blooms where slopes will be alive and diverge spectacularly from white snow-topped pinnacles.
Most of the time, it is a clear and beautiful day, with the occasional late-afternoon mist that can develop with a virus breeze. However, it is a charming stroll during spring when the country will be lush with vegetation up to Langtang town at a height of over 3,400 m, where tree lines drop for rugged scenes with ice temperatures in the morning and the evening.
Trek up Ghorepani Poon Hill
Before we go into great detail about our Poon Hill trek, we want you to know that we also host a lengthy Ghorepani Poon Hill trek that takes in additional picturesque villages nearby. For those who don't have the time to go on lengthy treks to take in the beauty of the Himalayas and its revitalizing air, we offer this quick 4-day Poon Hill trek. Undoubtedly one of the simpler treks in the Annapurna region, Poon Hill trekking provides an equally rewarding experience.
The Ghorepani Poon Hill trek is very well-liked by tourists because it is easily accessible and offers a quick trekking option. The best way to escape busy cities' crowds and relax is probably through travel. The trail passes through charming towns and verdant forests. The majority of the trail follows a path covered in rhododendron blossoms, which makes the journey incredibly beautiful. In addition, some challenging uphill climbing is present along the route.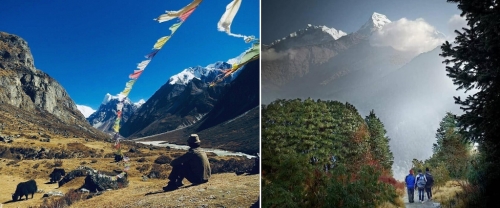 Nar Phu Valley Trek
Just behind the north face of Mount Annapurna in the Trans Himalaya, the Nar Phu Valley Trekking is an impressively brief excursion. The Nar Phu Valley Short Trek combines scenic, thrilling, and cultural phenomena. The trip's main attractions include a herd of yaks and wild goats, Gombas, glaciers, remote ancient villages, ranging river making deep gorges, lovely forests, amazing rock configuration, and medieval unique Tibetan culture handed down from their ancestors. The Nar Phu Valley was created as a tea house and homestay concept and was first made available to trekkers in 2003. You must obtain special trekking permits from the registered trekking agency since this is restricted area trekking.
Trek to view Everest
Everest View Treks is appropriate for people with limited opportunities to use it and elderly people with a smoldering desire to see Mt. Everest almost in person. They will be perfectly capable of this trek. For this trekking, physical fitness is not a requirement.
Trek to Mardi Himal
One of the most popular short treks out of Pokhara is to Mardi Himal, which offers a magnificent view of Fishtail, Annapurna South, I, and other mountain peaks. Because of the tranquil nature walk inside the rhododendron forest, Mardi Himal Trail is more picturesque than Ghorepani. A higher elevation can be reached quickly, and the view is simply breathtaking.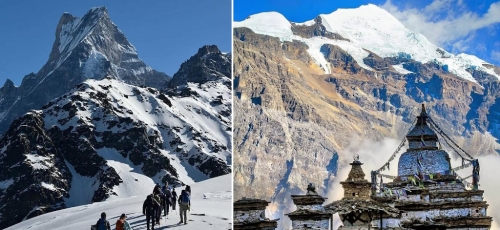 Mohare Danda Trek
On the final day, the Mohare Danda Community Trek trail joins the Ghorepani Poonhill, and we'll also go to Ghorepani. Rhododendron forests can be found all along the hiking trail leading to Mohare Danda's viewpoint, and the mountain views are absolutely stunning.
Upper Mustang Trek
Since tourists were prohibited from entering the restricted demilitarized area of Upper Mustang until 1992, the area is also known as the Last Forbidden Kingdom. Access is still very limited even today; trekkers require a special permit to enter Upper Mustang. The Nepalese Himalayas' remote and desolate Lo region was the former kingdom of Mustang. Upper Mustang is especially for those who adore exploring the mustang region's secretly stunning locations. You will see extraordinary scenery, charming towns, ancient sky caves and monasteries, as well as a culture, way of life, and heritage that haven't changed in centuries when you visit Upper Mustang.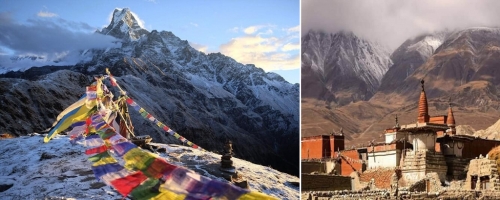 Diskuse
Diskuze k článku
Autor

Andreas

Datum a čas

16.1.2023 10:11
Reaguj
Celkem 1 příspěvek v diskuzi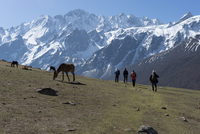 Trekking in Nepal: easy treks for those who are just starting out....
celý článek

CHORVATSKO 2023
levné ubytování v apartmánech a pokojích po celém Jadranu bez provize cestovkám.
Může se hodit
Nejčtenější články

Letiště České Budějovice, Karlovy Vary a Pardubice opustí příští rok aerolinky Smartwings. Při tom na jejich charterových letech pro cestovní kanceláře jsou tato regionální letiště závislá.

Trekking in Nepal: easy treks for those who are just starting out.
Diskuse
| | |
| --- | --- |
| INU | Honza, 29.9.2023 9:17, 1 příspěvek |
| | |
| --- | --- |
| INU | Honza, 29.9.2023 9:11, 1 příspěvek |