Užitečné odkazy
Hlavní nabídka
A pure-electric motorhome concept and a caravan that drives itself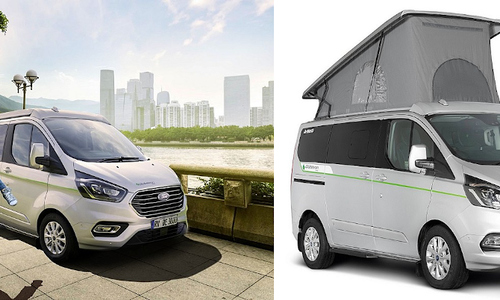 Globevan e.Hybrid: Ford Transit Custom e.home Coco.
German company is developing solutions for the mobile holiday of the future – Focus on electromobility and sustainability – From visions and concepts to prototypes or even production-ready vehicles, the motorhome and caravan manufacturer Dethleffs has been in the public eye for years thanks to its innovations.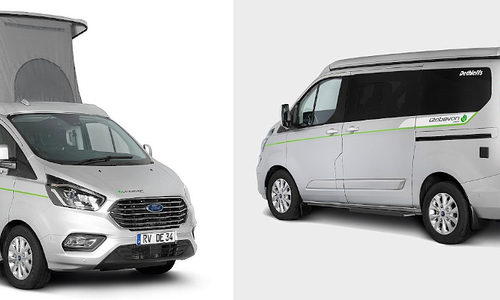 Globevan e.Hybrid: Ford Transit Custom e.home Coco.
A caravan with its own drive system and a motorhome with a virtually autonomous power supply – just two of many developments in the pipeline at the renowned motorhome and caravan manufacturer Dethleffs from Isny im Allgäu in Germany. For many years, the company has been working on environmentally friendly and innovative solutions to allow carefree and eco-friendly travel in the future.
Enjoy a holiday – with a clear conscience. Eco-friendly holidays are all the rage. Above all, this includes camping. The German company Dethleffs has been making headlines in the mobile travel sector for many years. Having invented the caravan in a small town in the south of Germany 90 years ago, the company's R&D department is still finding answers to the current problems faced by today's mobile holidaymakers – and has already come up with solutions for the camping holidays of the future.
Last year, at the world's largest camping fair in Düsseldorf, Dethleffs presented the prototype of the "e.home Coco", which was still in the testing phase. A caravan that drives itself – with the advantage that a heavy towing vehicle is no longer needed. "With this invention we are breaking the basic rules of caravan construction that have applied for decades," says Anita Lorenscheit from the company's marketing department. These new trailers will no longer simply be towed – they will propel themselves along behind the towing vehicle, thus reducing the required towing capacity. Combining the new caravan with an electric car creates an even more sustainable proposition – and one that is now actually feasible for the first time because electric cars are still a long way from achieving a practical range when towing a conventional caravan.

NABÍJENÍ PO ČESKU: Jak jsem celý týden nabíjel elektromobil

However, it will take some time until this invention from Dethleffs is made available to customers. "As with all patents for road vehicles, there are mainly legal hurdles. We still need to clarify a few things, from the driving licence to the European approval regulations," says Anita Lorenscheit. "We are entering completely uncharted territory here, because there has never been a self-propelled trailer of this kind on our roads before, so this is also a new challenge for the authorities to deal with." Meanwhile, intensive work on the technical details is underway in Isny.
Motorhome concept receives multiple awards
At the same time, Dethleffs continues to research and develop practicable solutions for electrically driven motorhomes. The company was the first manufacturer in the leisure industry to present a purely electrically driven – and also powered – motorhome concept to the public almost three years ago. In this visionary vehicle, all aspects of everyday life, such as cooking and heating, were operated by self-generated electricity via solar cells located on the vehicle. This concept earned Dethleffs the "European and the German Innovation Award 2018". The company's Managing Director, Alexander Leopold, is convinced: "We see electromobility as a core mission for the future. We are doing pioneering work through our research in this field."
Last year, the company presented its first plug-in hybrid motorhome, which is ready for series production. The basis of the Globevan e.Hybrid is a Ford Transit Custom with drive axles whose propulsion is purely electrical. The rechargeable battery installed in the vehicle provides a range of up to 50 km via purely electric propulsion. Naturally, the Globevan also offers an increased total range of 500 km. This is achieved with the built-in "Range Extender", a 1.0-litre EcoBoost petrol engine that serves exclusively as a generator for charging the battery.
This combination offers the advantage that the Globevan, which is suitable for everyday use, can be driven in cities just using electricity. Any city-centre prohibitions on vehicles that emit pollutants from therefore do not apply to this hybrid. At the same time, braking and stepping off the accelerator can generate energy through recuperation, enabling driving that is particularly energy-efficient and associated with low fuel consumption.
It will remain exciting in the future
Equipped with high-performance batteries, a central drive unit with two electric motors and intelligent control electronics, the "e.home Coco" active trailer is also designed to overcome significant differences in height. Dethleffs aims to demonstrate this via a special test and is now preparing its self-propelled caravan to master a unique challenge – an Alpine crossing with an electric car as the towing vehicle. It is therefore safe to say that the inventor of the caravan has yet more exciting developments in store.

OSOBNÍ AUTOMOBIL: KIA e-Soul, malé velké elektroauto
Erwin Hymer Group
The Erwin Hymer Group is a 100 per cent subsidiary of Thor Industries, the world's leading manufacturer of leisure vehicles with more than 25,000 employees worldwide. The Erwin Hymer Group unites motorhome and caravan manufacturers as well as motorhome and caravan accessory specialists, hire and financing services under one roof. The motorhome and caravan brands Buccaneer, Bürstner, Carado, Crosscamp, Compass, Dethleffs, Elddis, Eriba, Etrusco, Hymer, Niesmann+Bischoff, Laika, LMC, Roadtrek, Sunlight and Xplore, the motorhome rental companies McRent and rent easy, and also the chassis specialist Goldschmitt, the accessories specialist Movera and the touring portal freeontour all belong to the Erwin Hymer Group.
Website Promotion
Dethleffs GmbH & Co.KG
"Not without my family!" This decision taken by Arist Dethleffs in 1931 inspired him to design Germany's first ever caravan, which he called the Wohnauto (camper car) - all because the ski pole and horsewhip maker wanted to have his family by his side when he went on long business trips. Very few people were familiar with the word "leisure" back then; family holidays were a privilege and tourism was still in its infancy. The invention of the Dethleffs caravan marked the beginning of a new era - especially for the company, which eventually de-voted itself entirely to the production of caravans, followed by motorhomes.
The pioneering spirit of Arist Dethleffs can still be felt throughout the company to this day. It can be found in the ongoing development of model ranges, in the countless innovations and, needless to say, at the heart of the Dethleffs camping story - the family. The company has had close ties with Isny im Allgäu since the very beginning and, with its position as a Friend of the family, has its sights firmly set on the core values of the brand.
In addition to motorhomes and caravans of the Dethleffs brand, camper vans and urban vehicles for the Pössl and Crosscamp brands are also developed and produced in Isny.
INFO: Dethleffs
Diskuse
Diskuze k článku
Celkem 0 příspěvků v diskuzi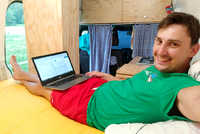 Věděli jste, že práce na volné noze spojená s cestováním není tak idylická, jako se zdá na sociálních sítích?...
celý článek
| AKCE | KDE | INFO | KDY | ČAS |
| --- | --- | --- | --- | --- |
| For Bikes and Sport - veletrh | Praha, Letňany | 1.-3.10. | 1.10. | |
| Holiday World - veletrh | Praha, Letňany | 1.-3.10. | 1.10. | |
| Deň Horskej záchrannej služby | Oravská Polhora, Slaná voda | | 9.10. | 11:00 |
| Hoga - veletrh | Německo, Norimberk | 17.-19.10. | 17.10. | |
| IDET - veletrh | Brno, Výstaviště | 20.-22.10. | 20.10. | |
| IMTM - veletrh | Izrael, Tel Aviv | 26.-27.10. Cestovní ruch | 26.10. | |
| GO a Regiontour - veletrh | Brno, Výstaviště | 4.-7.11. | 4.11. | |
| Bastlfest | Brno, Vida | 20.-21.11. Festival kutilství | 20.11. | |
| TT - veletrh cestovního ruchu | Polsko, Varšava | 24.-26.11. | 24.11. | |
| EurAsia Rail - veletrh | Turecko, Istanbul | 25.-27.11. Železnice | 25.11. | |
Diskuse
| | |
| --- | --- |
| Longboard | Gamster, 20.9.2021 18:15, 7 příspěvků |
| | |
| --- | --- |
| Praha | JanaTeron123, 19.9.2021 15:59, 4 příspěvky |
| | |
| --- | --- |
| Autor neznámý | Kuba Turek - šéfredaktor Horydoly, 16.9.2021 13:32, 2 příspěvky |
| | |
| --- | --- |
| Plzeň | Horydoly , 28.8.2021 14:39 |